Business Analysis Overview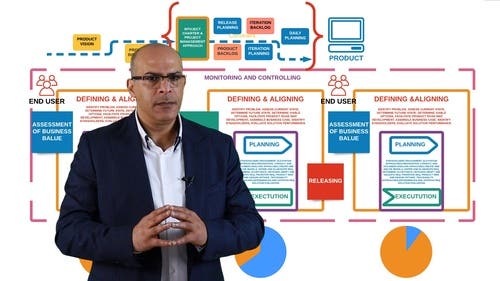 Take a Professional Look to Business Analysis Profession.
Join our Business Analysis Overview online training course to understand business analysis profession practices, techniques, and skills.
Duration:

1:40Hour

14 High Quality Video Lessons

Date: At Your Own Pace
Language: Arabic
Price: FREE
Course Description
This Business Analysis Overview online training course (Recorded), will introduce you an overview to see the big picture of business analysis profession and key topics covered by the PMI-PBA Professional in business analysis certification provided from the Project management institute PMI.
In this Business Analysis Professional Overview, we will cover three main areas of business analysis professional work efforts: Pre-project activities, during project activities, and Post-Project activities. All that trough a practical real case study.
Pre-project activates: you will learn how to conduct needs assessment activities in order to define organizational business needs and problems, develop situation statement, conduct gap analysis to determine required capabilities for the organization, how to recommend solution, develop product roadmap, and finally come up with the business case document.

Project Activities: in this phase business analysts collaborate with project management team to provide them with detailed product description through a set of activities like: Requirements elicitation, clarification, and detailed product shaping. this will help project management team to properly plan and manage producing the product.
Post-Project Activities: after project closing, business analysis team has to evaluated the product and ensure fulfilment of business needs defined in the pre-project phase.
This is a very helpful course to start thinking as a business analyst, and an introduction to Business Analysis Professional PMI-PBA Certification Training Course.
Register now